DWI/DUI Attorney in Weatherford, Texas
When a Night Out in Weatherford, TX Leads to a Night Behind Bars
PUT YOUR CONFIDENCE IN A SEASONED DWI AND DUI LAWYER
Kenneth W. Mullen has more than 20 years of experience, many of which as a prosecutor for the state. He will help you with everything from your first courtroom appearance to the final appeal.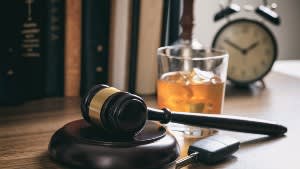 The Law Office of Kenneth W Mullen PC has been the legal firm of choice in the Weatherford, TX area for clients facing misdemeanor or felony DUI or DWI charges. He has years of experience with DUI Defense and DWI defense cases.
You'll be fully informed about the legalities surrounding your case when you trust Kenneth W. Mullen.
Get a free consultation on your DUI or DWI charge today.
HIRE AN EXPERIENCED DUI DEFENSE AND DRUG POSSESSION ATTORNEY
Felony or misdemeanor DUI or DWI charges come with short- and long-term consequences that can make buying a gun, securing a home loan, or gaining employment difficult. Kenneth W. Mullen will fight to minimize these ramifications so you can move forward in your life.
Besides DUI and DWI defense, you can call The Law Office of Kenneth W Mullen PC if you've been charged with:
DWI

DWI open container

DWI bac over .15

DWI misdemeanor repetition

DWI felony repetition

Intoxicated Assault

Intoxicated manslaughter
You don't need to put your driving privileges at further risk by trying to navigate the legal system on your own. Turn to an experienced DWI/DUI defense attorney to help you fight your charges and pursue a favorable outcome. If you are in the greater Weatherford, Texas area, and you have been charged with driving impaired, don't waste any time in taking action to protect your license and your freedom behind the wheel. Call Kenneth W. Mullen right away for an appointment.