There Are Two Sides to Every Family Violence Story
HIRE A DOMESTIC VIOLENCE ATTORNEY OR FAMILY VIOLENCE ATTORNEY IN WEATHERFORD, TX TO TELL YOURS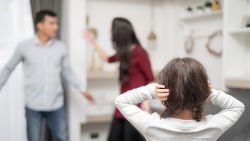 As a former prosecutor in domestic violence cases, Kenneth W. Mullen knows how to get your side of the story heard. He has defended countless Weatherford, TX residents against felony or misdemeanor charges using more than two decades of legal experience and experience with domestic violence defense.
No matter how complicated your domestic violence case is Kenneth W. Mullen, a domestic violence attorney can help. He'll take an in-depth look at your case to determine how to put your story in a better light.
Get the information you need for your domestic violence charge so you can make a sound legal decision for your future.
Schedule a free consultation with The Law Office of Kenneth W Mullen PC right away.
REMEMBER, YOU'RE INNOCENT UNTIL PROVEN GUILTY.
Without a reliable and effective attorney by your side, you're putting your rights on the line. Avoid getting railroaded by the legal system with Kenneth W. Mullen working on your case.
In addition to domestic violence defense, you can choose The Law Office of Kenneth W Mullen PC for cases pertaining to:
Assault of family member

Assault of family member 2nd offense in 12 months

Assault of family member impeding breath

Assault of family member with felony repetition
Tell Kenneth W Mullen about your domestic violence case today.